STEAKHOUSE "EL RANCHO"
The history of our Steakhouse "EL RANCHO"

Back in 1990 our Terraza Maritim Playa turned into the Steakhouse "El Rancho", a cordial restaurant with Canarian ambience. Our principles were best steak quality, comprehensive portions and (still remaining nowadays) a staff that is unique in Playa del Ingles.

Either our flambé-artist with his phantasmagoric pepper steaks, our barbecue chef , who always assures quality, Maxi our clown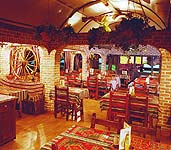 (joohoo, woufwouf....), or Paco Ramon, our hyperopic head waiter. They alltogether assure you a great atmosphere, fast service, much fun, and an unforgettable event eating at "El Rancho".

Today, after 28 years we argueably are the Nr.1 of all Steakhouses on the Island.

Opened daily from 6pm to 12pm.

We look forward to your visit.
"PAPA JOE'S RESTAURANT"
Also here we try to keep the our good cuisine tradition. Located on the 1st floor and with panoramic view where you can see life all around Kasbah and the Maspalomas Plaza.

Missisippi lives here with marine style.

Come and taste us...........