Our family history starts where most of family histories end. Our father, who was a forester, retired early after dedicating 40 years his job. Only shortly before his early retirement he started, with the help of our mother, our business in Germany (www.winzerkeller.com). In 1965, they enjoyed their first holidays together in Gran Canaria. Maritm Playa, 1973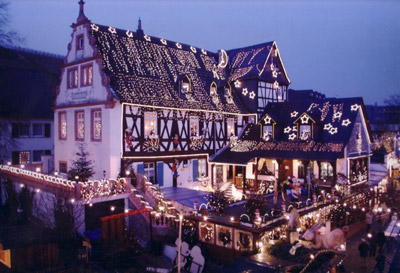 A forester on a dried island without trees?

It started with lots of doubts and ended up being his great love. Year after year they chose to enjoy their holidays in Las Palmas, and later on, in the south of the island. They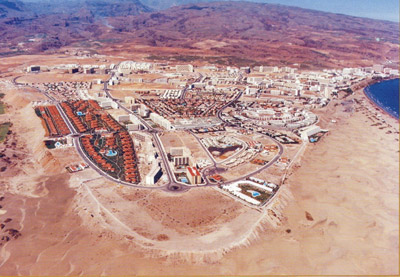 made a lot of friends during this time but to our father, being on holiday meant thinking about work and business all the time. And then, in 1975, when he was 65 years old he was offered to buy a restaurant inside a complex and be in charge of the Maritim Playa Hotel gastronomy. He did not need to think much about it and after talking to his family he said: "My daughter will get be in charge of the business in Germany and my son will do the same in Gran Canaria."

At the beginning there were a lot of problems, and after a suspension of payments from the construction company, on the 25th of May 1976 the "Maritim Playa" Restaurant was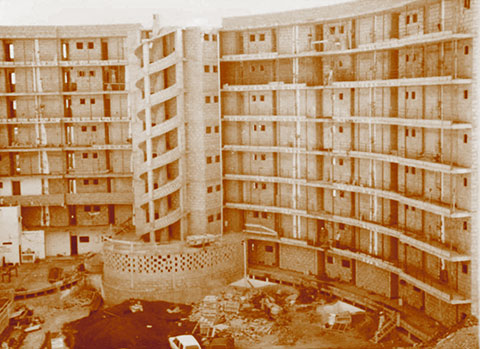 opened in the centre of Playa del Inglés, in a building that was not even finished. He was 66 years old, he did not know a word of Spanish, and he was very pigheaded, but with a family that always supported him in all of his decisions, our "patriarch" opened the restaurant. Then, in 1978, he obtained the construction rights from the construction company with the suspension of payments. And finally, on the 1st of November 1980,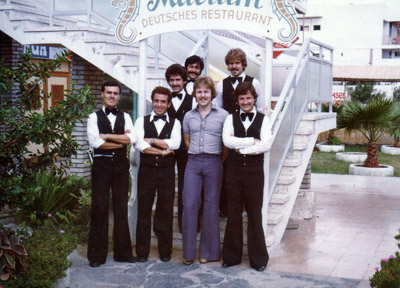 he opened the building. To everyone´s amazement, a retired forester, without the help of a consortium, a big bank or a touroperator, with only the help of his wife and children, made this family business. Gran Canaria was his beloved island, and he was very proud to see how both business carried out by his daughter Rosel and his son Roland were growing up.

When he was 83 years old he still was the boss and was always taking care of all guests. He was very happy to see how his grandchildren grow, three of them in Germany (Iris, Sabine and Peter) and two of them in Gran Canaria (Björn and Lars). He died in 1993, and so did our mother in 1997.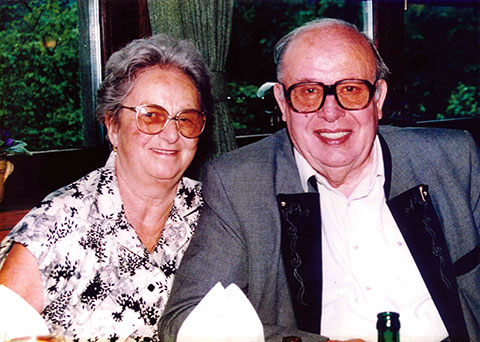 Unfortunately, they couldn´t see how their daughter-in-law Margit Schmidt would became the new boss in 1999. It was love, harmony, comprehension, dedication and warmth at first sight. Early she became very beloved by all our guests and worked very hard to find new ones. The Maritim Playa Hotel is one of very few that still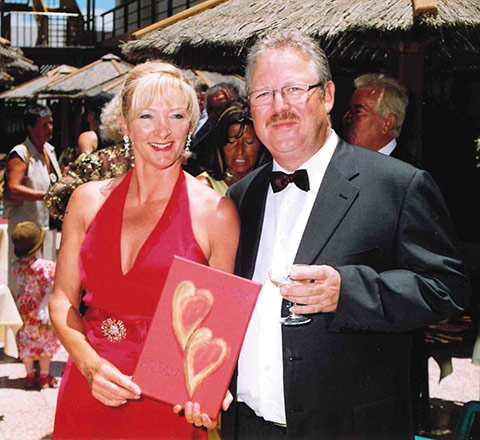 remains today as a family business. There were three very important days between the 8th and the 10th of May 2006. First, when Margit celebrated her 45th birthday on the 8th of May. Then the wedding between Margit and Roland Christ at the church of Playa del Inglés on the 9th of May. And finally, the 50th birthday of Roland on the 10th of May.
Those days opened also a door to the new generation. From being the boss, Roland became the "patriarch" and his son (Björn), became the Junior boss. Roland Christ, Margit Christ and Björn Christ will be the next generation to be in charge of this house, so that it remains well-known for its good service, kindness and warm welcoming.


Roland and Margit Christ
Maritim Playa, 31st of December 2007